Bleecker Street staple Pasticceria Rocco celebrates its 40th anniversary next year
If you've ever walked down Bleecker Street, you've probably noticed the colossal cookies in the windows of
Pasticceria Rocco
, a family-run Italian bakery.
You know you want them.
What you might not know is that the cookies—in flavors ranging from traditional chocolate almond to contemporary marshmallow brownie—are only one of hundreds of homemade treats that the Generoso family has been serving since 1974. Since then, the family has dished out fresh Italian pastries, cakes, gelato, and panini morning, noon, and night.
Meet the family behind Pasticceria Rocco, which celebrates its 40th anniversary next year. They bake the incredible cannoli served on our
Original Greenwich Village tour
!
WHAT YOU DIDN'T KNOW: The founder, Rocco Generoso, is basically living the American dream. In 1957, he arrived in the US directly from Italy, and landed his first job as a dishwasher at Joe Zema's Bakery—a old Bleecker Street Italian favorite. He quickly became Joe's apprentice and later became his head pastry chef.
Rocco Generoso, the founder of Pasticceria Rocco
After Joe retired, Rocco eventually purchased the bakery and made it his own. At Pasticceria Rocco, he continued baking in the traditional Italian style he had mastered. Locals flocked to Rocco's counter for hard-to-find authentic treats inspired by many traditional southern Italian recipes, including the foods of Rocco's hometown of Amantea on Italy's Calabrian coastline.
Forty years later, the Generoso family is still crafting homemade Italian pastries, and the locals are still lining up to buy them. Rocky (aka Rocco Jr.) has taken over the title of head pastry chef from his father. Daughters Patricia and Laura manage the bakery. And even the granddaughters stop by on a regular basis to pitch in behind the counter.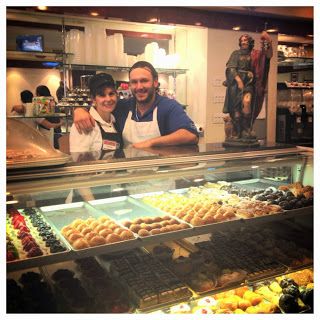 Rocco's children now own and operate the bakery
Daughter Patricia manages the shop, and son Rocky creates the delicious merchandise
MUST EAT ITEM: Do we have to pick just one?
With literally hundreds of items on the menu, Rocco's offers a variety of freshly-baked classic Italian pastries that change on a daily basis. Snag a classic ricotta-filled sfogliatelli, or try one of Rocky's new twists on classics like the pistachio-encrusted cheesecake or the fresh-berry custard tart.
A pastry chef adds fresh strawberries, and blueberries to Rocky's latest creation
Our favorite pastry? The cannoli. Unlike 99% of cannoli's out there, these pastries are made 100% in-house, from the ricotta cream to the cannoli shell. And they're lovingly filled with cream upon order. Why? It keeps the cannoli fresh and crunchy. The cannoli recipe's over 100-years-old, which means there have been many, many happy customers on Bleecker Street (and beyond).